A reassuring presence to help
your loved
one maintain
the rhythm of life
Whether for conversation, personal care, cooking or shopping, our care companions are dedicated to helping seniors
Care and support services for the elderly
Perhaps your loved one just needs a little helping hand, supervision, companionship or guidance. To respond to these needs, here are some of the care and support services we offer.
Conversation and connection
Like the rest of us, seniors need to interact, chat and be heard. Social exchanges and sharing are important to the mind and the heart. We offer assistance during meals or other times of the day, as required, according to the routine of those who are dear to you. Happiness is often the result of connecting with people.
Meal preparation
People who live alone tend to have poor nutritional habits, often because of a lack of motivation, energy or resources. Sometimes, they just don't feel like bothering. A good, balanced diet allows them to live better by nourishing their body, mind and soul
Housekeeping
Health is also a result of cleanliness. We can vacuum; dust; sweep and mop; clean the bathroom and kitchen; take out the trash; tidy up the bedroom, closets and drawers; and clean the windows on the inside, as long as it doesn't require the use of a stepladder.
Shopping and errands
We can take care of things like picking up prescriptions, going to the post office, etc.
Rest and respite for the family
You're devoted, you want to take care of your loved ones and you do it out of the goodness of your heart. However, sometimes you, too, might need a break or some free time to do something else. We're here to take over for you for as long as you need us so you can take some time to regain your strength, take care of business or simply step back and take a deep breath.
Medication reminders
Although home care providers aren't allowed to administer medication, they can remind clients to take their medication and help them do things like open the containers and read the directions. For more specialized assistance, it's also possible to request the aid of a home nurse.
Assistance with grooming and dressing
The loss of independence usually happens gradually. Over time, simple everyday tasks tend to become increasingly difficult and frustrating. We can help clients button their buttons, zip up their zippers, put on their socks and tie their shoelaces, for example. Getting dressed can lift their spirits and restore their sense of human dignity.
Transportation
Being stuck at home can negatively affect anyone's mood within a very short time. Our transportation service helps clients maintain their link with the outside world by enabling them to get out, see people and participate in their usual activities. We're here to help them get around safely, whether they need to go to a doctor's appointment, get a haircut, go shopping or simply get out of the house and go somewhere they feel like going.
Laundry
To ensure that our clients have clothes that are clean, well-maintained and ready to wear, we'll wash, dry, iron, fold and put away their clothing.
Recreational activities
Recreation is important to our physical and mental well-being, as it gives us a change of pace, allowing us to take our mind off our problems for a while. Whether a game of cards, a board game, a walk in the park, arts and crafts, hobbies, going to church or visiting other favorite places, leisure activities enable seniors to stay active mentally, physically and spiritually.
Mail sorting and organizing
Let's face it: even young, independent people hate dealing with the mail. We can help seniors manage their mail, for example, by separating their junk mail from the important mail and reminding them when bills need to be paid.
Periodic re-evaluation and communication with the family
It isn't easy to entrust our world to the care of strangers, no matter how professional they may be! That's why we make sure to answer your questions, ease your concerns and communicate with you so we can readjust our services according to the needs of your loved one.
Assistance with personal care for seniors or those who've lost their independence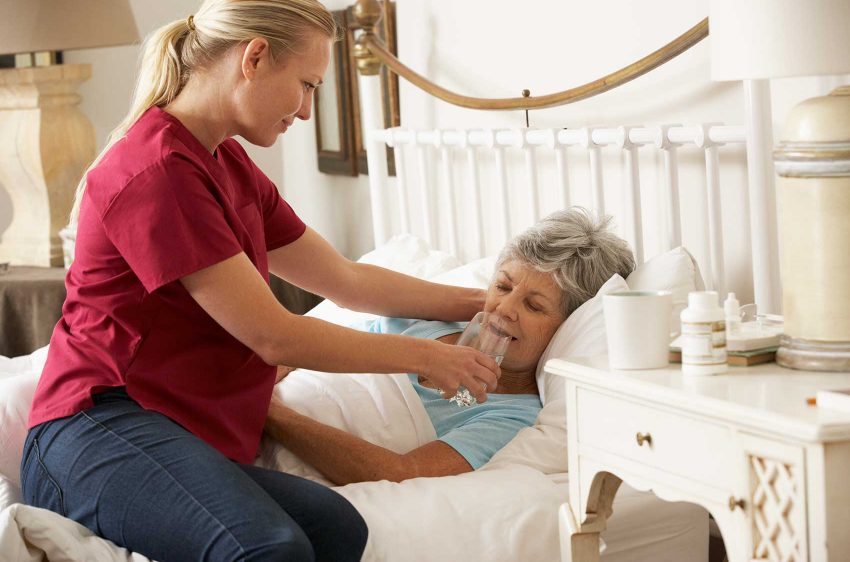 Bathing
For elderly persons or those who've lost their independence, bathing can be dangerous. However, it's also vitally important. We'll help ensure good hygiene and an improved sense of well-being.
Mobility
The benefits of mobility are numerous. Exercise, whether gentle or more vigorous, helps improve mood, reduce stress and promote mental acuity.
Moving and changing positions
The loss of mobility can have serious consequences for the human body. We can help seniors move and change positions so they can maintain functional activity, relieve pressure points on their skin, reduce muscle stiffness and atrophy, and promote better respiratory and digestive function.
Bathroom and personal hygiene
Unfortunately, the loss of independence goes hand in hand with a loss of dignity. We provide sensitive, compassionate assistance to those who need support.
Oral hygiene
Good oral hygiene shouldn't be neglected, as it's essential to maintaining an optimal quality of life. To prevent bad breath, cavities and gum disease that can lead to other complications or illnesses, we help ensure that your elderly loved ones maintain proper oral hygiene.
Nutrition
There are specific nutritional requirements for maintaining overall health and for managing certain medical conditions. We're here to make sure that seniors are getting the best possible nutrition.
Are you wondering if we're the home care agency that will meet your needs?